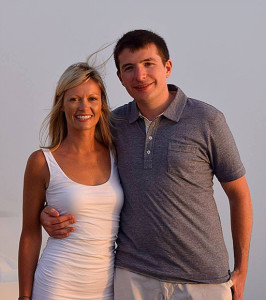 Tea expert Kevin Leary spends his time sampling and sourcing teas from around the world for his family-owned business Coastal Tea Company. Coastal Tea Company was founded on the belief that people aren't fully experiencing the joy of quality tea, particularly matcha. For more than a decade Kevin's family has loved premium loose tea and matcha. They've made it their goal to share their passion with others around the world, one tea at a time. Check out our review of Coastal Tea Company Organic Matcha Green Tea Powder.
What do you do at Coastal Tea Company?
I'm the founder of Coastal Tea Company. I spend my time sampling and sourcing teas from around the world as we work to grow our product offerings.
Have you always had an interest in tea?
My wife and I have been avid tea drinkers for years. In college, we lived in Burlington, Vermont and bought our first loose leaf tea at a small local shop called Uncommon Grounds on Church Street. Our love for local, organic teas stemmed from out first visit to Uncommon Grounds (a local tea/latte spot) and has continued to grow.
What makes your matcha special? Where is it from?
We are proud of our matcha. We knew from personal taste and experience with drinking matcha that most of what is available on the market today isn't truly matcha. We decided to create our own product, one that would bring a ceremonial tea directly from the best growing regions of Kyoto, Japan (ours is from the Uji prefecture). Growing up in Vermont, buying products from small and local farmers has been important to my wife and I. We sought out a tea farm that mirrored our desire to support a family run operation in Japan for our matcha.
What should readers know about drinking matcha?
New matcha drinkers should know that matcha has many health benefits. As matcha tea catches buzz around the news, more and more research is coming our in support of drinking matcha. Check out an article on our site.
What should readers know about cooking with matcha? Do you have any recipes you could share?
Using matcha in your daily cooking, drinking, and baking is easy! Now that summer has hit, we are using matcha in all sorts of smoothies, lattes, and iced teas. My wife recently wrote an "Iced Matcha Roundup" blog based off of some of her favorite iced matcha drinks for the warm weather. Check out the article on our site here. Also don't miss our delicious matcha brownie recipe!