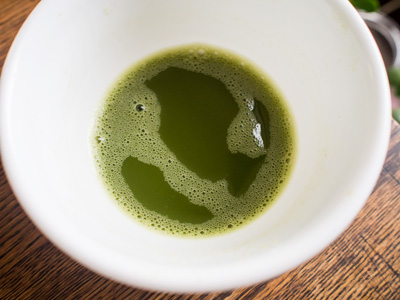 Company: T Mall
Type:
From: Uji, Kyoto, Japan
Grade: Ceremonial
Ounces: 1.05
Price: $10.99
Price Per Ounce: $10.99
Rating: 4 / 5
Click Here to Get This Matcha
Matcha Review
This matcha from Kyoto comes in a small sealed bag. For storage, you'll want to move it to a sealed can. The matcha is bright green in color and has a slight aroma of sweet fresh grass. After whisking, it has plenty of bubbles and froth. The texture is creamy and smooth. The taste is slightly sweet and not as bold as DoMatcha. Overall, it's a great matcha for the price.
About the company: T Mall
T Mall appears to buy Matcha in bulk and repackage before selling on Amazon. From the Amazon description:
Pure ORGANIC Premium Japanese Green Tea Matcha Powder. 1.05 Oz. (30g.) From the best location who produce the best quality of Green Tea Powder (Matcha) of the world; Uji, Japan. We do wholesale and buy in bulk order directly from manufacture & repackage to a small resealable foil bag for you to enjoy at the very best price! Enjoy!