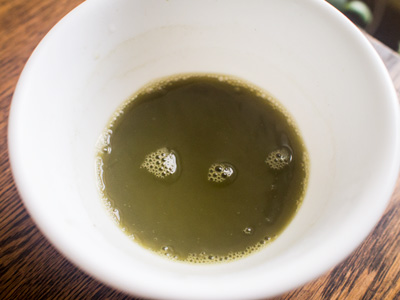 Company: MatchaDNA
Type:
From: China
Grade:
Ounces: 3
Price: $19.71
Price Per Ounce: $6.57
Rating: 2 / 5
Click Here to Get This Matcha
Matcha Review
This green tea powder claims to be matcha, but is likely sencha. See Matcha versus Sencha. It comes in a sealed bag, and inside is 34 individually packed pouches. These seem useful if you are on the go but otherwise seem unnecessary. MatchaDNA has a dark / olive green color (good matcha should be bright green). It has an earthy smell to it. After whisking, there are very few bubbles and little froth. The taste is very bitter, chalky and has an astringent aftertaste.
About the Company: MatchaDNA
From the MatchaDNA website:
The mission of Matcha DNA is very clear; to give its drinkers a sense of wellbeing, healthful living, and longevity. Money doesn't grow on trees and it is important to know that when you are paying for something, that you are getting the most benefits possible from it. Matcha DNA delivers, inspires, delights, and allows you to experience the ancient tradition of tea. Matcha was considered a royal drink in China, a drink befitting the emperor, and was a coveted secret of the Imperial house for many years.