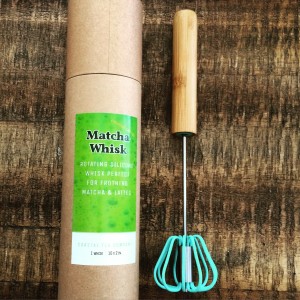 Company: Coastal Tea Company
Whisk Type: Mechanical
Price: $19
Click here to get this matcha whisk
Matcha Whisk Review
For my daily matcha ritual, I have one of three methods to get the matcha powder mixed with water:
Traditional bamboo chasen: Add a little hot water, start whisking, pour in remaining water
Shaker bottle: Add matcha, hot water, shake vigorously
Small metal whisk: When I'm making a protein shake, I use a small metal whisk for mix in the protein powder and matcha powder with cold water
Of these three methods, none is perfect. I still get some matcha powder at the bottom that isn't fully mixed in. And I don't always get a good froth. So when Coastal Tea Company mentioned they had a new whisk for me to try, I was excited to say the least. The whisk is styled as a mix between old and new: A bamboo handle, stainless steel whisk, and silicone surface on whisking end.
Steps to use the matcha whisk
So far, I have tried this for my matcha and also matcha lattes. I'm going to give it a try for protein shakes and cocktails next.
Overall, I really like the whisk. It's easy to use, easy to clean, and creates a more consistent frothy matcha beverage. And because it's mechanical, there is no battery to replace, making it better for the environment than those electric whisks. If you are a daily matcha drinker I'd especially recommend it as it helps you get the most out of your matcha.
Rating: 5/5
Click here to get this matcha whisk
Video of the matcha whisk in action on my Instagram