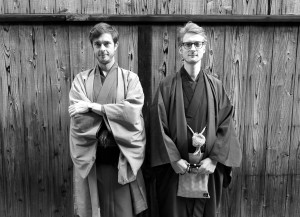 Etienne and Morgan were two young French expats & foodies, living in Japan for years. Drained by the cold worlds of big finance & IT firms and in search of themselves, they went on an adventure to find and create the greatest Matcha Green Teas ever. Thus began the story of Material Matcha Uji 宇治.
How long have the two of you been living in Japan?
Morgan: My first trip to Japan goes back to 2002, I settled in 2008.
Etienne: My grandfather actually lived in Japan from the 1950s, and my dad grew up here too, but myself I only really settled down from 2003.
What first inspired you to leave your jobs?
We were trying to give meaning to our lives, to doing something palpable and concrete, without having any specific project. In February 2016, we went to a weekend in Uji and stopped at a friend's house in the oldest tea house in the world. He made us taste a delicious Matcha and explained to us how this Japanese heritage was in danger. First of all, we must know that high-quality matcha is hardly ever exported outside of Japan, and its production decreases from year to year, replaced by intensive agriculture of poor quality. Moreover, the average age of Japanese farmers is 65 years and they have the greatest difficulty in finding a successor. Very quickly, the project to create a brand of Matcha of very high quality and to help it become discovered in the West seemed to be an incredible challenge.
What is it about tea that appeals to you so much?
Morgan: I am fascinated by the beauty of a matcha cup that has just been prepared. I never get tired of admiring this bright green full of bubbles.
Etienne: There is something about matcha that makes it very specific for me compared to other teas. It is made of tea, but the preparation, taste, texture, it's all unique.
How did you decide on these three particular blends for your first products?
From the beginning we wanted to offer 3 blends in order to propose a various profile of texture, flavor and Umami. We wanted to make people discover several flavors of Matcha.
What have you learned about Japanese culture through this project?
We were introduced to the tea ceremony, its history and its codes. It is an incredible experience that must be lived at least once in a lifetime. On the business side of culture, we dove deep in Kyoto and were reminded that there even more than in the rest of Japan, patience and manners were the key.

What have been some of the biggest challenges that you've had to overcome on this project?
As we wanted to do everything in a traditional way, we had to take care of everything from the harvest through the packaging of the product to the distribution. You have to be very versatile.
What will the Kickstarter support?
Generally, farmers are paid after the harvest when they deliver the tea leaves. Their whole year of work is played out in a few weeks, it is a great source of stress for them. The Kickstarter campaign will allow us to purchase a year of harvest in advance to provide them with financial stability. They will thus be able to concentrate on the quality of production. It is essential that they have peace of mind.
See the Material Matcha Uji Kickstarter campaign »
What makes your matcha special?
We are using different traditional techniques. You can read more about it here.
Our Matcha comes exclusively from the Uji region, which is the best terroir in the world to cultivate tencha (the leaves that will then allow to obtain from the Matcha)
The blending of our Matcha was done in collaboration with Mr. Morita who is recognized as the greatest tea sommelier of his generation
And finally, we asked to big names in the world of tea to test our Matcha and their comments are extremely positive.
We live in Uji, just next to the fields

What should readers know about drinking matcha?
It is very important to use a bamboo whisk to prepare his matcha, without this accessory one loses a large part of the taste. We recommend using this technique to prepare the best matcha possible.
Editor's note: Here's a video of how I make My Perfect Cup of Matcha »
Matcha contains numerous nutrients that make it a remedy for both the body and the mind. It is one of the best superfoods, just like quinoa or the spirulina. It contains a multitude of beneficial nutrients: amino acids, antioxidants, vitamins, catechin, and caffeine! Matcha also includes a high L-theanine content – this amino acid relaxes your nervous system. It also contains vitamins A, C, E, B1 and B2 that provide the body with a balanced diet!
Do you have any recommendations for readers wanting to learn more about matcha?
The first thing to do is to inquire on the internet, as matcha is very well documented with quality information. But the most important is to visit the Uji region and its many plots of tea. In addition to being a pretty area, this is the best way to learn about matcha.