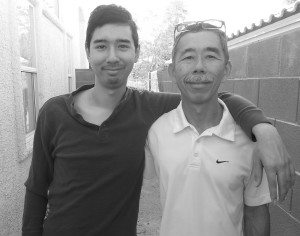 Matcha experts Dr. Genko Tano and Yasu Tano are a father and son team at First Harvest Tea. They are dedicated to creating and selling the best possible Matcha tea products. As a native of Japan, growing up on a farm, Genko learned about sustainable agriculture, eating real foods and healthful living. His ancestors grew tea commercially using the same practice that continue to this day in all the First Harvest Tea products. Check out our review of First Harvest Tea Organic Ceremonial Matcha.
What do you do at First Harvest Tea?
Genko: I am what they call in Japan, the head honcho at First Harvest Tea. I work directly with the grower and producer, with whom I have become good friends.
Yasu: I semi-seriously refer to myself as a Matcha evangelist, but in reality I handle the marketing and customer service of First Harvest Tea.
Have you always had an interest in matcha?
Genko: Since I was born and raised in Japan, I grew up drinking green tea (sencha) daily. Traditionally, matcha was used for the formal Japanese tea ceremony and although I drank it on occasion, it was not a daily beverage. Once I studied the benefits and health value of matcha, I started drinking matcha as my morning beverage.
Yasu: I've always been a heavy tea drinker but I only recently started drinking Matcha as my main source of caffeinated energy in the last two years.
What makes your matcha special? Where is it from?
Genko: Our First Harvest brand matcha is organic which is essential. Our growers use centuries old sustainable techniques ranging from the way he mulches the plants; covers them just as the new leaves are growing in the spring and the excellent way it is dried, ground and packaged.
Yasu: All of our matcha is harvested and prepared in farms around Shizuoka, Japan.
What should readers know about drinking matcha?
Genko: Matcha contains caffeine, but unlike coffee you will not experience that shaky buzz high followed by the crash. Matcha contains an amino acid called, L-theanine which unlike caffeine has a calming effect (in reality the L-theanine causes the body to process the caffeine slow). This balances the caffeine providing focused concentration, alertness, and a general clarity of mind.
Another essential nutrient found in matcha is EGCG, which is the strongest anti-oxidant available in a plant protecting the nervous and cardiovascular system as well as being an anti-cancer agent. Since the entire leaf is ground, you are getting more nutrients and chlorophyll–benefits you do not get from an ordinary tea infusion.
Yasu: As an entrepreneur, I need to maintain high energy levels for 12-14 hours per day, by drinking Matcha I can keep my focus steady and level without many of the repercussions like crashes or jitters when I drink coffee or energy drinks. I like to call it my secret weapon.
What should readers know about cooking with matcha? Do you have any recipes you could share?
Genko: I don't know about special recipes, I have found matcha to be relatively versatile and can be used as an add on to pretty much any existing recipe. For instance I recently added a half teaspoon of culinary grade matcha into a small batch of pancakes (1.5 cups of flour) while I was mixing milk and eggs into the flour.
Yasu: I personally have not used it much in cooking but I always add a teaspoon of Matcha to my morning protein shake that I drink every morning before I hit the gym.