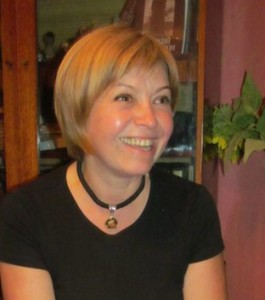 Tea expert Elena Volkova was first exposed to tea culture in Russia, her country of origin. She has been creating house tea blends at Culinary Teas since October 2013. Culinary Teas is a small family-owned partnership that specializes in tea and tea accessories. Check out our reviews of their Matcha Green Tea Powder and Genmaicha Extra Green Tea with Matcha.
What do you do at Culinary Teas?
I work full time at Culinary teas and enjoy being with teas, smelling, touching, drinking tea, sharing my love for tea and excitement for tea discoveries. I hand-pack teas, work with customers, write tea reviews, generate and execute marketing ideas, and create house tea blends :-).
Have you always had an interest in tea?
I was exposed to tea culture in Russia, my country of origin. I love tea and it is a part of my everyday happiness. In 2003 I graduated from tea school and started to present Chinese tea ceremonies. I have been working for Culinary Teas since October 2013.
How do the health benefits of matcha green tea compare to those of other varieties of tea?
Matcha is a powerhouse of antioxidants and contains L-theanine, which helps relax the mind, enhance mood, focus, and alertness. Matcha contains 137 times more antioxidants than plain green tea.
Matcha increases:
- academic performance
- concentration
- immunity
- energy and vivacity
Matcha tea
- focuses and stimulates brain activity
- improves mood and calms the nerves
- preserves youth and brightens the skin
- promotes weight loss
- contains more antioxidants than ginger, blueberry, spinach, and broccoli
What makes your matcha special? Is your usucha or "thin matcha" prepared differently from koicha or "thick matcha?"
Our matcha is not a ceremonial, but high quality matcha suitable for everyday consumption. It is grown in Nishio, Japan, the largest region of matcha production. The tea bushes are carefully shaded a few weeks prior to harvesting in order to protect them from direct sunlight. This method brings out the sweetness or "umami." The manufactured leaves are milled like flour to produce a fine green powder.
Koicha and usucha types are used in tea ceremonies. Culinary Tea matcha is used as an ingredient in beverages and pastries so we do not call them either koicha or usucha.
Can you tell us about your Genmaicha Extra Green With Matcha?
Blends of Matcha and Genmaicha have been popular for decades in Japan. However, the quality varies. Our blend uses a tea ceremony grade matcha and high quality Bancha and produces a very aromatic, flavorful, bright green cup compared to other blends.
What should readers know about drinking matcha tea?
Matcha is a century old health elixir. The people of the Okinawa islands have an average life expectancy of almost 90 years and low rates of chronic disease. The highest quality matcha is produced and consumed there and health experts attribute the native Okinawans' longevity and vitality to regular consumption of Japanese matcha tea.
Can you tell us how you keep matcha and green tea fresh at your shop in Massachusetts? How can consumers keep their supply fresh after opening it?
Matcha is immediately placed in chilled storage after shipment from Japan. This preserves the freshness of the product.
We recommend that you freeze unopened packages of tea. After opening your tea store it in an airtight container in a cool dark cabinet but not your refrigerator. Storing open packages in a refrigerator may cause moisture to condense inside the package, harming the tea. Once the package is opened the tea has a shelf life of three months.